Event Planning for all Occasions
Children's Parties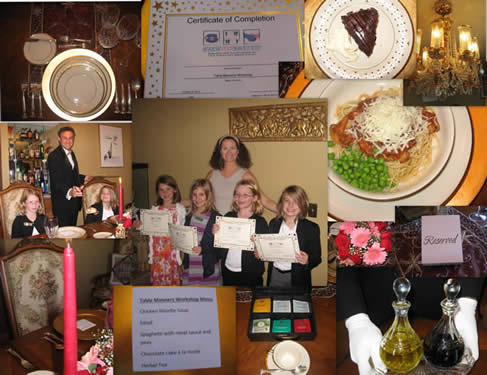 Organization Parties
Neighborhood Parties
Weddings
Dear Deborah and the DFJE Team, Thank you so much for planning our neighborhood Memorial Day and Labor Day Pool Party and Barbecue. Everyone loved it. Planning such an event takes a lot of work and your professionalism and talent were exactly what we needed. We especially loved the interesting and nuanced decorations of fresh herb centerpieces that guests could take home with them! The talent show and your dance performance was entertaining, encouraged participation and such a creative and homey touch. The afternoon was well thought out and flowed nicely--and the extra little touches were unexpected and pleasant surprises. Great job! The Board of Directors is so grateful for all of your efforts! -- Quade Whitmire, AKW President
Styling you to Sparkle in the Spotlight!
Preparing Celebrity Clients for the Paparazzi!
Olympic Gold Medalist, Kerri Strug + Robert Fischer
"Dance for Joy Events took us from having no dance skills to being able to dance at our wedding. We highly recommend them. Our First Dance was a huge hit! Robert did the lift wonderfully and the dip was great too! We also did a lot of fun, fast dancing during the reception. Everyone was so surprised because we are usually pretty reserved and rarely dance; thus it was that much sweeter! Thanks for your help we appreciate it!"
Chelsea Causey, Washington Redskins Cheerleader, MAXIM Magazine model.
The Wedding Dance Bootcamps were a great start! I would certainly recommend a wedding workshop from The Wedding Dance Specialist for anyone looking to learn the basics of ballroom dancing. It was a great little "date day", they keep it light and fun & romantic. It was a great foundation for us & we are going to take a few private lessons with TWDS to choreograph to our wedding song for our First Dance! (Married on 24 Sep 2011) - The Washington Redskins Cheerleader, Chelsea Causey (now Sparaco)
Sandy Ferreira, Nationally Recognized Wedding Planner and owner Love Couture Bridal Shop & Contestant on "The Apprentice" Reality TV Show
Thank you so much! We had so much fun during our private lessons and are excited and confident about our First Dance! - Sandy Ferreira and Mark Leone (nationally recognizedwedding planner, bridal shop owner of Love Couture Bridal and The Apprentice contestant)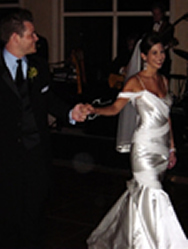 Nationally Recognized Image Consultant Lauren Rothman, Principal of Styleauteur
"Thank you again for helping us learn our first dance to Ella Fitzgerald's "Beginner's Luck!" Your services were invaluable and made us feel very special. Anticipating our dance classes with you made us excited for our upcoming wedding. We gained more confidence and were able to learn something together, at the same pace -- a very bonding experience! We love dancing and have signed up for your salsa and merengue classes. Our wedding was beautiful and we even practiced the night before outside the ballroom!" -Lauren Rothman and Jason Gerbsman, June 5, 2004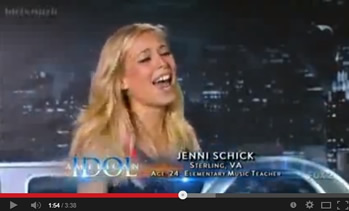 Jenny Schick, Professional Singer and Contestant on "American Idol"
"We had a great time. We're very encouraged about our First Dance. We were apprhensive about dancing in general and now we are confident that it is goingto go smoothly.It's going to go well. Our instructor helped us work on things that we specifically needed work on (like my awkward arms) and our instructor helped us feel confident for our big day! I think it has been fun because we have also been dancing a lot more in general outside of our classes at other social events and enjoyed ourselves more overall because of this experience. It's been great!" - Jenni Schick and Justin Propovitch, June 21, 2014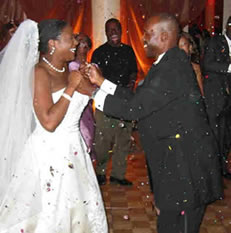 Sarah Jane Bennett, Professional Wedding Planner and starred on an episode of "Real Weddings by The Knot" reality TV show that aired repeatedly on Oprah Winfrey's Oxygen Network
"THANK YOU SOOOOOOOOO MUCH. We can't sing your praises enough. I know you have spoken to my friend who is getting married in July and she loves you already. Our wedding was amazing. Guests we so touched by our dances. So many people have said every time they hear 'Dangerously In Love' on the radio, they think of our first dance. WOW. It was so magnificent, I can't even think of something to complain about. Nate and I miss you already. I think we will be catch a few of your group classes in the future. We even used our moves in St. Lucia, dancing at the resort and the compliments there were endless. Million thanks again!" - Sarah-Jane and Nathan Bennett, May 29, 2004
Engaged Couples Reviews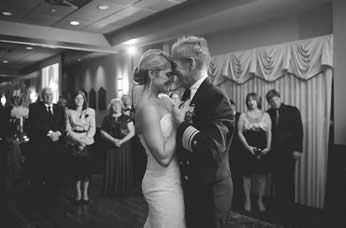 CHRIS + SHANNON
First, we are so happy we met you – you were absolutely wonderful to work with and we are SO thrilled to report that we had a beautiful first dance! Thank you so much for all the time and extra effort you put into the practice tips emails – they were wonderful and very helpful. We took all your words of wisdom to heart and had a perfect opportunity to run through the dance about 5 times with a glass of champagne while we were alone in a room before the reception began. We hit every bit of the routine and while I'm sure it wasn't perfect to a trained eye, it was perfect to us and we received so many compliments. Attached are a few photos. We're excited to get our video in a few weeks! We will look forward to coming back to you soon!! Thank you again for all you did to help make our evening so special! Happily, Rear Admiral and Mrs. Paul! xx
GENEVA + JEFF
"Our wedding was absolutely perfect - the vows, the speeches, the food but most importantly - our First Dance was flawless! All of our lessons from you really paid off and thank you for being so patient with us. We had many people come up to us and ask if we had had dance lessons (and from whom) because they were so impressed. I guess everyone knows we couldn't have pulled it off naturally haha! :) Jeff wowed the crowd with the flirty head drape and we got some beautiful pics of the cuddle-sways (see below). The father daughter and mother son dances were also great and no toes were stepped on or shoulders injured ha ha :). I'm depressed it's all over and I'm back at work but hopefully we can get together again for some salsa or other fun dances! " Geneva and Jeff King, May 17, 2014
JOHN + JANE
"We got back from our honeymoon recently and wanted to thank you and Christina again for the dance lessons. The crowd loved it and we had a lot of fun during the whole day. Our classes definitely put us at ease with being in the spotlight and also allowed us to impress everyone to boot! Also, Jane bought those dance straps that you recommended and they helped a lot!"
KEN + BRIAN
"We had a great time and learned a great deal! We recommend Dance for Joy Events to other same-sex couples and opposite-sex couples!" Click Here to see a clip of their first dance: 0:00 - :30
HOLMES + BLAKE
My husband and I really wanted to avoid the middle-school sway during our first dance, so we called upon Dance for Joy Events to try and make us look respectable. This was no small feat considering that my husband doesn't have an ounce of rhythm in his body (he will attest to this). We worked with Migle over the course of 5 dance lessons. Migle is extremely talented and a lot of fun to work with. She was very encouraging and had lots of suggestions for us along the way. She tailored our first dance to our ability level and vision and even recorded our dance in-studio so that we could practice at home. Migle understood that we didn't want a completely choreographed dance (we were afraid it might look too cheesy) but rather wanted to learn a beginning and end and then some moves that we could throw in during the middle for a natural feel. That's exactly what she gave us! We couldn't have been happier with the final result—an absolute transformation from when we walked in for our first lesson. In addition to having a blast together learning to dance, my husband and I had a great time performing our dance at our reception. We literally had folks on their feet clapping! Needless to say, we received countless compliments and kudos from our wedding guests. Several weeks later, many of them are still talking about it! The folks at Dance for Joy Events are real pros and we highly recommend them! From Judy in the office to Migle our teacher, everyone was an absolute delight to work with. In addition to having fun learning to dance together, you'll enjoy impressing all of your wedding guests with your new moves!
ALEXANDRA + JAY
We had an amazing experience with Dance for Joy Events! We had the odd request of helping us with our "first dance" and to teach us how to dance the polka (to please the grandparents). They accommodated both with ease and we had a great time doing it. The dance studio was convenient (easy parking) and the teacher, Dinah, was fantastic and fun. Everyone commented on how great it was that we didn't just rock back and forth like we were embarrased and instead put on a show! A friend told us "it made the event!" People even applauded at our spin move! :) We had a blast. Thank you Wedding Dance Specialists!
MATT + VAIL
If you live in the DC metro area, the grand champion of wedding dance teachers is definitely Migle from Dance for Joy Events. At least that's what the trophy says that we gave her at the end of our series of 6 lessons. That's right, she was that good that we got her a TROPHY! She took my fiance from not knowing a single step of formal dance to looking like my own personal Fred Astaire. She worked with us extremely well, mixing in some moves that we had created on our own, and giving us new ones we never would have thought of that are BEAUTIFUL! When we asked to put in a lift, even though she'd never had a couple ask for one before, she put one in that we could execute well, that looks impressive, but that is safe, and takes into consideration my strapless dress. Migle also had a GREAT sense of humor and made the lessons fun. Each time she thought of a step that at first my fiance didn't think he could possibly do, she would break down the steps into the simplest components and walk him through it, giving him helpful pointers to remember. Migle even helped him with musicality! Our song had some strange timing in it, and we were having problems stepping at the right time, so she listened to the song over and over and found certain elements for us to listen for that helped us nail it each time.
We could not possibly be happier with our experience that we had. Because of this experience, it was my FIANCE's idea to take more lessons after the wedding. He said he found the whole thing surprisingly enjoyable and that each weekend he looked forward to our lesson and our nightly practice sessions. Taking someone with no dance background at all, and getting them to really ENJOY dancing is quite an accomplishment in my opinion. The other great thing was they had a practice crinolin for us to dance with. This gave us a better idea of what it will be like dancing with my big ball gown. Migle also offered to take a video of us in practice. This was tremendously helpful for us to fine tune our moves and our hands. All in all, if we were to do it all over again, I wouldn't change a single thing! Thank you soooooo much Wedding Dance Specialists!!!!!!
The place we had our wedding at is ranked one of the top places to get married at in the NYC metro area. It was in the New York Time's list of best places to get married. I tell you this just to give you an idea of how many top notch weddings the people at this place see. They do 4 weddings a weekend! The director of the facility told us, that it was without a doubt the MOST BEAUTIFUL first dance he had EVER seen at the Pleasantdale Chateau and in his life. If that isn't the biggest compliment we could give Migle and Dance for Joy Events, I don't know what is! Everyone and their brother went nuts for the dance that day, and they all love watching the video time and time again. Thank you from the bottom of our hearts for giving us something we'll cherish forever!
LAURA + CHAD
I wanted to share the wonderful experience we had learning our first dance with Dance for Joy Eventss. My husband is not known for his rhythm or dance moves so we wanted to surprise everyone with a polished first dance. The dance we ended up with was well above and beyond our expectations. The classes were so much fun and the teachers really put us at ease. Our first dance turned out to be our favorite part of our entire wedding. Because we were so well prepared it was relaxed and fun for us instead of awkward. And the hoots and hollers we got from our shocked guests will never be forgotten! I am attaching some photos to illustrate how special it was. Soon we will have our video and I will see if I can share that with you as well!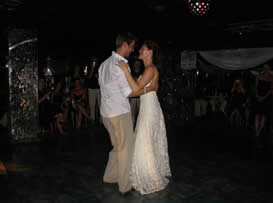 ERIN + CHRIS
Our instructor, Jim was great! And I have to give some credit to my husband who begrudgingly took these lessons; he really went all out and embraced the process of learning this challenging "sport". He was even dancing face to face (embraced) with Jim and didn't bulk once…that's a tough thing for a guy to do sometimes. We really liked how Jim didn't push us on his idea of what we should do; he really encouraged us to go on as we feel comfortable, and just taught us the moves. We practiced at home too which definitely helped ! Our dance was a hit for sure! It really showed people what our love for one another is like b/c we did a fast dance that was totally "us"!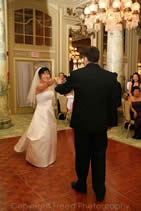 GRACE + TOM
We wanted to learn how to dance to our firstsong, "Unforgettable". Dance for Joy Events were great-very professional and helpful. Our instructor, Derek was fantastic! He is very talented and highly knowledgeable of all the steps.The lessons were absolutely worthwhile. My husband and I took Foxtrot lessons for our wedding. In four lessons and a lot of practice, Derek transformed us from two lefties into Ginger Rogers and Fred Astaire. Our guests were in awe. On a scale of 1-10, TWDS and Derek get all 10s! Thanks!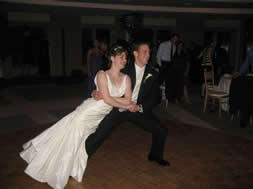 DANIELLE + NICHOLAS
We wanted to write to thank you for our wonderful dance lesson. Our instructor gave us the basic moves and some specialty moves that we could use in our first dance. Since I have dance background, she gave us some showcase moves for a particular part in the song where I wanted them. Your method allowed me to put together the routine after we left with the moves she gave us. Everyone loved our first dance and particularly this move--thank you !!!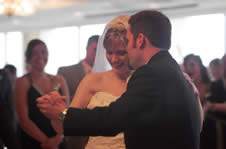 JESSICA + DAVID
We just wanted to write and say what a wonderful experience we had with Wedding Dance Specialists and our instructor Kevin. My husband and I were married on May 31, 2008 and we am so glad we went with Wedding Dance Specialists for our dance lessons. Kevin was a great instructor. He broke the steps down really well, explained everything well, and was very patient with us. He was also fun to work with. We got so many compliments after our first dance. People said we looked like we should be on "Dancing with the Stars"! :) It was a great experience and we will definitely recommend Wedding Dance Specialists and Kevin to our friends.
KATE + JOHN
Dear TWDS, We are writing to thank you and our instructor for the package of dance lessons that we took prior to our April wedding. We had a terrific experience with your company. We had no dance experience prior to our lessons, and you helped us to progress from nervous and awkward to confident and comfortable. It made such a big difference in our wedding day, because we were really able to enjoy being on the dance floor during our first dance. It is a moment that we'll always remember. We thank our instructor for his patience and comprehensive teaching techniques. We would strongly recommend your lessons to any couples planning a first dance at their wedding! Thanks so much!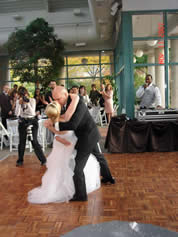 MICHELE + JAMES
James and I just wanted to forward a picture of our successful first dance to you from our November wedding! We had such a wonderful instructor and the results were fabulous. We were able to keep perfect time with the music and the steps that he taught us stayed with us! Our closing dip was done perfectly and right on cue! Our instructor knew how to work with each individual's experience level and comfort zone. We are so grateful that we chose to work with Dance for Joy Events. We would be more than happy to provide a reference should you need it! Many thanks!
KATIE + MICHAEL
My husband I wanted to send a message to say thanks for the great dance lessons! Our instructor was Kevin Wang who was with us for all six of our lessons. Kevin explained things clearly and was able to instruct us in a way that we could easily understand. He was funny and patient and we can't imagine learning from anyone else. It was truly a great experience. We will strongly recommend Dance for Joy Events and Kevin to our friends and family. Thanks again for a fun and exciting dance experience.
ERIC + CASEY
We chose a group lesson package and invited our parents to make a group of 6. Our instructor was Kevin Wang and he was fantastic! He had such a natural talent to listen to the selected songs, and then design the dances right from the top of his head. With only three 2-hour lessons, our first dance was flawless, and we even nailed the dip at the end! Our father/daughter dance and mother/son dance that we had practiced in our group lessons were fantastic too. Kevin was patient, kind, flexible and an overall pleasure to work with. I would recommend him to all couples that need to brush up or learn how to dance for their wedding! Thank you Kevin and thank you Wedding Dance Specialists!
GREGG + SHELLEY
To give you a sense of how the entire dance, and specifically the conclusion, were received by our guests, note my sister's look in the background of the photo! The crowd loved our dance, and more importantly, Shelley and I cherished both the dance and the entire night. The event was a glorious success, went off without a hitch, and there are folks from California to Florida and Arkansas to Maine still talking about it. We deeply appreciate the care and attention that you devoted to us during our dance lessons. Your mix of patience, persistence, and enthusiasm made the experience effortless and just plain fun. Thank you for helping us to achieve the "first dance" that we had envisioned.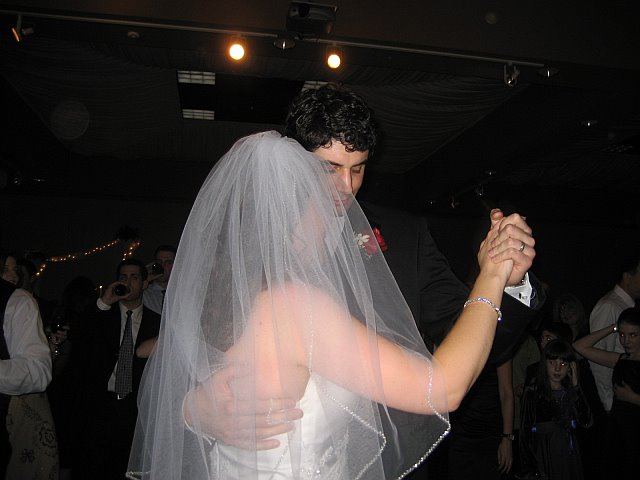 BRIAN + KASEY
Thanks again for the dancing lessons. We received rave reviews from a lot of the guests about our first dance. My Brother-in-law said "there was no way they only had 2 lessons!" I have attached a picture of our first dance. Best of luck with future endeavors.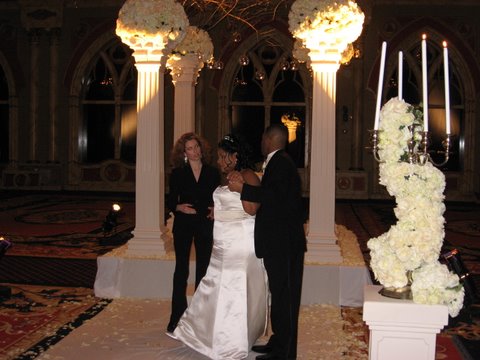 DUANE + GABRIELLE
On-site Warm Up assistance by Deborah Joy before their big Tango Debut!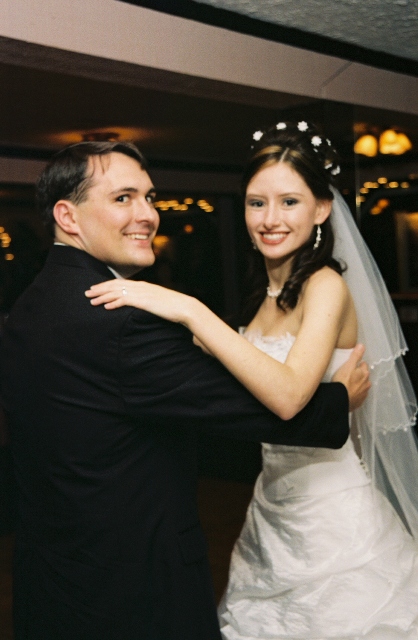 TANYA + DAVID
Thank you for your lessons, we enjoyed the experience and our first dance impressed our guests! As promised, we're sending you some dance pictures from our wedding.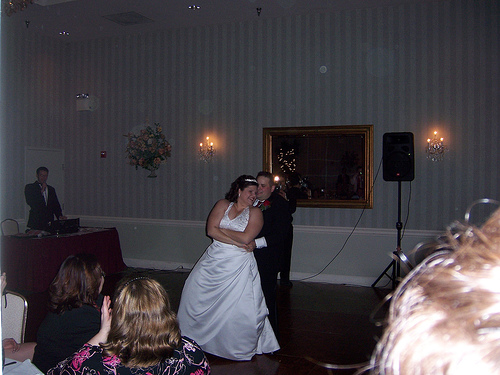 DANIELLE + NATHAN
Our wedding was at The Waterford in Fairfax and we danced our 1st dance to "Bless the Broken Road" by Rascal Flatts. We had 5 lessons with Jim and not only really enjoyed him as an instructor, but were really impressed with how well he taught us and choreographed our dance. Jim was awesome! Please pass this along and send him our sincere thanks. Our 1st dance was an absolute hit. Everyone was amazed at how well we did and were chanting and hollering for us as we danced! We really loved taking dance lessons and sometime down the road we'd love to take some lessons with him again. Thank you again for the experience and good job picking an amazing instructor for us!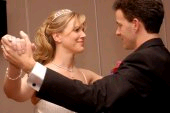 TOM + SUSAN
Photography by Laura Biederman
SHAMUS + CENK
Thank you for having such a great company dedicated to wedding dances that has inspired us as a couple as well as empowered us as individuals.Our teacher Krasi takes such amazing care to ensure we overcome dancing fears and grow into a confident couple with real dancing skills. We loved the experience so much that the once- resistant groom actually insisted we take more classes! We couldn't have done it without Krasi and Dance for Joy Events! Deepest thanks!
STEVE + WHITNEY
Thank you and Jim so much for helping to make our wedding dance absolutely memorable. Steve and I knew that we had a few missteps, but no one else noticed! And I was thrilled that my friend got a perfect shot of this moment (not even the photographer knew it was coming).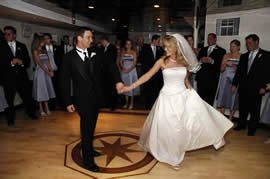 WENDY + JASON
Initially our least favorite part of the lessons was the walk-in because we felt silly doing it. You encouraged us to set the stage for the dance by making an entrance our friends and family would remember. As it turned out, of the 1000 or so pictures taken of us at our wedding, our entrance was my favorite one!
SAM + LAURA
Honestly, I was pretty much on "automatic" for the dancing. I think people liked the" intro walk-in spin thing." We got some good compliments. I think it made it a lot more fun to watch. The classes were immense help... I would have been ill from nerves had I not had them. We very much appreciate you helping us!
LACY + NICKOLAS
Okay, let me start out by saying, in the first lesson, Deborah must have been laughing hysterically on the inside because my fiance and I were just plain AWFUL dancers. However, Deborah is a miracle worker because people were cheering, whistling, and clapping throughout our first dance. With Deborah's help, we picked a kind of big-band song to get the party started, and this choice was very effective. People were so suprised and impressed with our first dance. We did have one potential disaster (but apparently nobody noticed except us--or they are too nice to say so--we'll determine when we see the video). Anyway, Deborah was great and we plan to take many more classes from her before our upcoming family cruise this winter. GRADE: A+
LAUREN + JASON
Thank you again for helping us learn our first dance to Ella Fitzgerald's "Beginner's Luck!" Your services were invaluable and made us feel very special. Anticipating our dance classes with you made us excited for our upcoming wedding. We gained more confidence and were able to learn something together, at the same pace -- a very bonding experience! We love dancing and have signed up for your salsa and merengue classes. Our wedding was beautiful and we even practiced the night before outside the ballroom! We'll see you soon!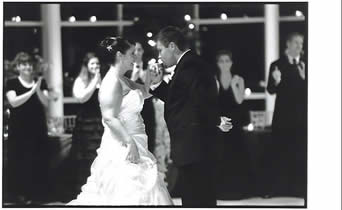 KIM + JOSH
"Thank you so much for teaching a couple of musically-challenged people to dance. All we intended was to just be above the prom-sway, but we were so much better than that!! Everyone just loved it and we had so much fun. We are still getting compliments on our first dance a month later. We intend to take lessons again. I'm thinking salsa!"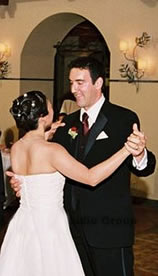 SANDY + BERNARD
"Thanks for everything, our dance went off smashingly. We had MANY compliments on our first dance. You would've been proud." -- Sandy and Bernard Lynch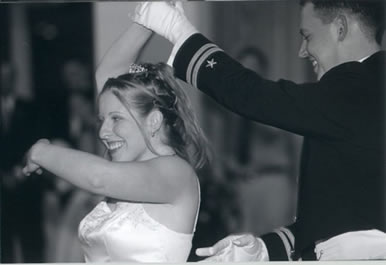 MEGAN + STEVEN
"We just wanted to tell you that our first dance at our wedding went very well, even better than it ever had in rehearsal, shockingly. Our guests LOVED it -- some of them were literally squealing like they were on a rollercoaster with each turn we did, and even at our little sidestep move. It was a huge hit. We told all our friends how much fun lessons were. You are an excellent teacher and the attention you paid to detail ensured we really looked like we knew what we were doing. For example, you spent a lot of time with me on "arm styling" to look graceful during a turn and time with Steve on "cuban hips" to look less uptight, and we did actually look like dancers on the big day. :) It was totally worth the investment! We're thinking of doing group lessons with you as well." -- Megan D. and Steven W.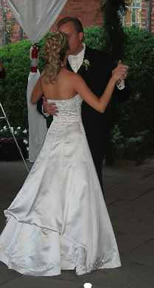 AMBER + BRAD
"Learning to dance made our reception fun and exciting!" -- Amber and Brad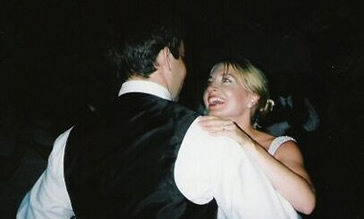 ALEX + BETH
"Thank you for being so patient, articulate, creative and skillful as our dance instructor. Within a few short weeks, we went from no synchronized dance moves, to a choreographed routine that "wowed" our wedding guests. One of my favorite memories of my wedding reception was the sound of cheers and applauding that we received upon our "big ending" dip. You helped us make this special memory possible. You're also a delight to work with as an instructor. Thank you!" -- Alex and Beth Kepnes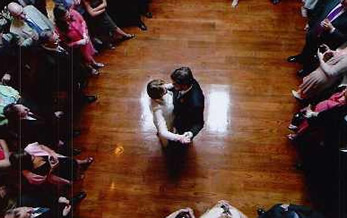 JEFF + GAYLE
"Our first dance was beautiful! Thanks for helping to make our wedding day our best memory of 2003!" -- Jeff Helman and Gayle Binney
DARREN + DANIELLE
"We want to tell you that our dance turned out WONDERFULLY because of you! We even got the dip down at the end, and everyone was SO impressed with our dance that we wound up doing it again at the end of the reception for an encore performance. We really appreciate all of the personal time that you took with us, and look forward to taking lessons from you again soon! Thank you SO much for everything!" -- Darren and Danielle
SEAN + HEATHER
"Our wedding dance went great! We had kept the lessons a secret from most people, so they were amazed. We even got a standing ovation! Thank you so much for your help." -- Heather and Sean Atkins
SETH + RACHEL
"Thanks for everything!!! Our first dance was so wonderful and fun! It was truly one of the most magical moments of our day. Thank you for your time and advice. We want to do it all over again!" -- Rachel and Seth
GEORGE + ANGELA
"Our initial nervousness only lasted a few seconds but the great impression lasted the whole evening! Our first dance was tons of fun and our friends were surprised." -- Angela and George Cholakis
PATRICIA + ROLAND
"I would say that our lessons were very helpful - Deborah encouraged us to dance and practice on our own - which turned out to be a lot of fun, actually. Doing the actual dance was the best part. We heard a lot of "oohs" and "aahs" (not to mention gasps of surprise) during our little routine. I think the dancing was the most fun part of the whole reception!" -- Patricia Ferreras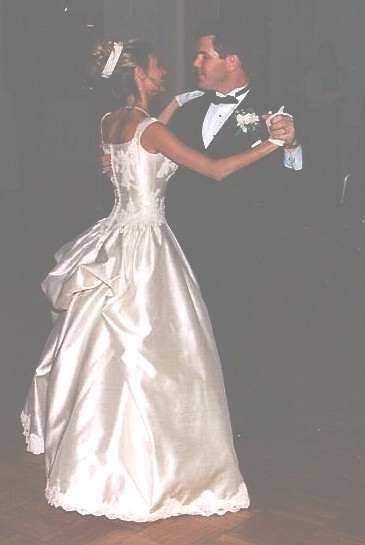 RAY + HOLLY
"We wanted to tell you how grateful we are to have taken ballroom dancing lessons from you. We were so self-conscious when we began taking lessons, but felt at ease with you immediately. Your expertise in dance combined with your patient style of teaching helped us to learn the dances and have fun at the same time. We value the special time we have together through dance and have found that our ability to communicate with each other has improved tremendously since we began working together to learn to dance.
"Dancing has brought us closer together as a couple. We also wanted to thank you for teaching us the dance that we performed at our wedding reception. The dance absolutely made our day. We felt confident in our skills and were able to truly enjoy our first waltz together as husband and wife. We continue to receive compliments from our friends and family about our dance and will share this beautiful memory forever. Thank you so much again. We will be highly recommending you to all our friends." -- Ray and Holly Warren
KAREN + CHRIS
Neither myself nor my husband had really been taught ballroom dancing before so the lessons were definitely worth it. My parents came for the second lesson for a touch-up and that went well too. Our instructor was patient, very friendly, and knew how to teach it to us in simple ways so we could remember it for the big day. Both dances went well and were much better than if we had not had the lessons. Everyone loved our first dance! I would definitely recommend your dance company.
SUSAN + CHRISTOPHER
We really needed to get coordinated and learn how to dance together! We got to learn the basics, but also a few unique moves. Our instructors were great!
NIKKI + ANDY
We had an amazing wedding including a spectacular first dance that our guests loved. One of our guests even put a video up on YouTube! Considering that I couldn't even get the steps in lesson one, I think the end result was nothing short of a miracle. The dance lessons brought us closer together as a couple in the stressful time leading up to our big day. Thanks for helping me discover that sometimes it's better for him to lead :) We will certainly recommend you in the future should we have the opportunity. Thanks!
KING + JACQUELINE
Thanks for everything! Dancing was something I thought I would never get into or even like but you changed that. There are a ton of pictures some of the first few pictures are during the cocktail hour when we did some warm up dancing and then later of the actual dance. I also have video of our First Dance as well as my Mothers dance with me. During the reception I danced all night! Jackie no longer needs to drag and force me onto the dance floor because I'm already there. You turned this cadence marching Marine into a man with rhythm, moves and more importantly confidence out on the dance floor. Thank you!
JOAN + KEN
"I just wanted to thank you for the two dance lessons. We practiced and the end result was fantastic. Thanks so much! Many thanks to you for helping us ensure that the first dance was more than just the standard fare."
JAMES + JENNIFER
We would like to thank you for your patient and thorough instruction! Even with only ONE lesson, our guests were so impressed with our first dance that they couldn't believe we were beginners-they thought we had been taking lessons for several months! We enjoyed our lesson with TWDS and we look forward to continuing lessions with you in the future! Many thanks!
THEMBI + PRESTON
Preston and I did a beautiful job at our first dance. Everyone enjoyed it. Our guests could tell that we were having fun. I can't wait for us to take more lessons. Having fun while being married is important. Thank you so much in referring me to the DJ company. They came through at the last minute for us when we were in a crunch. Also, everyone loved him he was the best and professional. He had people doing the soul train line!
LESLIE + DAVID
We had done the Tango, with the help of Jim and Krasi. The dance went perfectly and our guests have not stopped talking about it. It was truly the highlight of the reception. Thanks again!
CAROLINE + BRETT
We can't thank you enough for being an excellent, patient teacher! "All I Want Is You" by U2 was a hit and now we feel like we can dance at any other weddings now! Interestingly enough - after we took the two lessons with you, we found out two of Brett's good friends/co-workers also took lessons from you! Then we saw you on the TV show, Real Weddings by The Knot last week! You are all over the place and really have a grasp of this market! All the best to you!
KRISTEN + CARLOS
We took lessons from Jim last month for our first dance - LOVE by Nat King Cole. We just wanted to let him know that it went perfectly!! We even received appluase from our guests throughout the dance! We got alot of compliments on our skills, and many people said that it stood out as a first dance because it was so exciting for everyone to watch. He had also taught us some swing which we used throughout the night. Thanks for everything - the dance really made out night special!
CHUCK + DEB, MATT + ROBIN
We just wanted you to know that we had a GREAT lesson today with Krasi. Even though this was our one hour "crash course" we learned A LOT! Please let him know that we were very happy and are actually looking forward to dancing at our son's wedding next weekend. The bride to be had taken some lessons elsewhere but had not learned the dance steps for "their " song. She was delighted! Thank you!
GIL + NANCY
I am writing today to thank you, on behalf of myself and my new wife, Nancy, for the excellent services provided to us by Dance for Joy Events and, more specifically, by our dance instructor, Krasi. Thanks to Krasi's outstanding instruction, we performed our first dance perfectly! We applied everything that Krasi taught us and, as such, the performance went exactly as it should have. In fact the song, which seemed so long when we were taking lessons, was over before we knew it! Furthermore, guests at our wedding complimented us saying that we'd clearly been practicing a great deal. This is especially amazing since, prior to signing up with Dance for Joy Events, neither of us had had any formal dance training.In addition, beyond just the dances at our wedding, Nancy's and my overall dancing skills, particularly leading (for me) and following (for her) have improved dramatically. I personally feel much more comfortable now, thanks to Krasi's instruction, with attempting new, improvised dance moves and Nancy is likewise able to follow these moves. Dancing is certainly much more fun now.So thanks again for everything. I intend to recommend Krasi and Dance for Joy Events as vociferously and as often as I can. Cheers!
BOBBIE JO + BRYCE
Just wanted to let you know that every thing is going great. We are so excited about how every thing is comming together, every one is going to be so supprised when we dance, and Jim is doing a great job. Jim is also going to teach us some other dance steps since we have done so well with our wedding dance.
ALAN FLEMING + DEBORAH
Thank you for all the juggling you did to accomodate us at such late notice! Our teacher Krasi, was patient, observant and positive even when correcting us. He was also very quick to point out when things were done correctly too. He quickly identified that we wre having a little trouble with a pattern and shifted to another easier one instead. He was very respectful of Alan, asking if he objected to showing us something by dancing with me; a lost courtesy that ws wonderful to see again. He is a definite asset to Dance for Joy Events. If in the future we wish to take lessons, we would return without question. I have no reservations recommending Dance for Joy Events to anyone.
MR. + MRS. TRENOR
"I just wanted to write to thank you and, in particular, Michelle for our dance lessons last month,which were arranged on rather short notice. Our wedding was on July 24, and while it all went by so quickly, Anne-Marie and I think that our lessons were extremely helpful in making us feel comfortable with our first dance (and with other dances during the night)."
LACY + NIKOLAS
"We wanted to thank you for teaching the two clumsiest people in the DC-metro area (us) how to dance. Our first dance was amazing. We had so much fun! People were cheering and whistling throughout the song. Everyone was surprised and impressed with how well we danced and that we included three different steps. Many commented that our dance's energy really set the tone for the rest of the party (which was fantastic--the dance floor was packed throughout the evening). Thanks a million for your patience, encouragement and expertise. Once again, thanks for your contibution to our perfect day! We'll see you again soon in your upcoming classes." -- Lacy and Nikolas Marosfalvy
DAMIEN + TRACY
"We both thoroughly enjoyed learning to dance and you are an exceptional instructor, with the patience of a saint. We truly appreciate your contribution and guidance that helped make our dream wedding come true. Thank you!" -- Damien and Tracy Conaghan
LISA + AL LENTINI
"We certainly had a wonderful time learning to dance for our first dance together. These skills will be invaluable over time. Thank you so much!" -- Lisa Beth and Al Lentini
NICOLE + MATT
"People loved it!!! You were right. We got so many compliments and everyone said how much fun it was -and that we looked like we knew what we were doing.... :) It really turned out well and we had fun with it. Thanks again!" -- Nicole Oden and Matt Ludwig
JEFF + LIVY
The wedding was absolutely perfect and we danced all night. The lessons were a HUGE help and gave me a ton of confidence. Also, I have a good friend, who is getting married this summer. I sent him your contact info this morning and he will be contacting you shortly. Thanks again! -- Jeff and Livy Burkey
PEYTON + DAVA
"We want to thank you for your excellent instruction. We felt so much more confident on the day of the wedding; it went beautifully. As soon as our friends get engaged we will be sure to send them to you." -- Peyton and Dava Craighill
LOFTY + NANCY
"We can't believe we did it! We pulled off a lovely first dance for our adoring friends and relatives! And it's all thanks to you and your great teaching! We had a great time dancing, and the crowd went wild at the end when we dipped. When the video arrives, we will get to enjoy our first dance again!" -- Lofty and Nancy Durham
JON + ALICE
"It was nice to feel comfortable and relaxed during our first dance at our wedding. We were able to enjoy our moment without worrying about what the steps to the foxtrot were. We think it would be wonderful to continue dance lessons with you in the future. We greatly enjoyed our lessons with you." -- Alice and Jon Kernkraut
KRISTEN + DAVID
"We had a great time at the wedding and our twirls got us a standing ovation! It was great! We have already referred you to another couple! Thanks for your help. It was fun working with you. You may just see us again!" -- Kristen and David
MELODY + BRYAN
"We loved being able to show off during our first dance as man and wife. The greatest benefit of taking lessons is being able to confidently dance at social functions, not just sit and watch others dance." -- Melody and Bryan Hooker
STEVE + LESLIE
We just want to say thank you for your instruction and especially for your patience with me for our dance lessons this past Spring. Our First dance went wonderfully. Leslie and I felt very comfortable, and several guests remarked that they would never hav believed that I could dance that well. Our first dance was the first event of our reception and definitely set the happy and celebratory tone for teh rest of the reception!
Same Sex Review
Ken Patterson + Brian Burson

"We had a great time and learned a great deal! We recommend Dance for Joy Events to other same-sex couples and opposite-sex couples!" Click Here to see a clip of their first dance: 0:00 - :30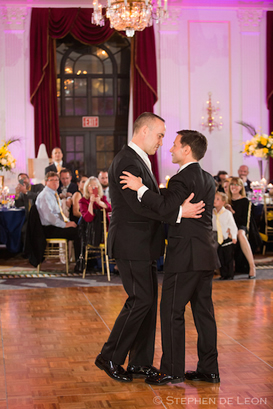 Dave + Ray

"Thanks for helping to make our first dance a big success!" -- Dave R. and Ray P. - April 25, 2015
Frank Snodgrass and Aaron Machado - 2015
Ivan + Duane
With tremendous luck we found our fairy godmother of wedding dance. We wanted to use our first dance as our first act as a legally married couple in front of our loved ones. I love to dance but my husband was only very good at the "one-hand-on-a-beer-bottle-while-both-feet-stay-attached-to-the-floor-with-slight-sway-side-to-side" kind of dance. But when we met Deborah, we knew we found our perfect teacher. She was fun, a little out-there (in the best possible way), and she made both of us super comfortable. She tailored our lessons (we did 4) to meet our needs and my husband just simply loved going to her lessons. The actual dance was perfect but the experience of us going to the lessons was awesome. Going to Deborah was almost like our little escape from all the last minute planning and running around trying to get everything done. Needless to say, our guests were floored by how our first dance turned out. My husband was beaming with pride and joy and that made me want to cry again. Seriously, we went to Deborah with the music and general dance style in mind, she made it happen. Love her.
Anonymous said on Wedding Wire
Quality of Service: 5.0 Responsiveness: 5.0 Professionalism: 5.0 Value:5.0 Flexibility: 5.0"My partner and I were married on October 18, 2014, in Washington, D.C. My partner felt strongly that we should have a "first dance," although I will admit that I was much more reluctant because we have been together for 16 years and I am not a very good dancer (so hard for a gay man to admit!). From the first meeting with Deborah Joy, however, I realized how wrong I had been. Deborah was simply amazing both as a dance instructor and a person. She developed a choreography for our first dance song (Leona Lewis, First Time I Ever Saw Your Face) within one hearing of the song. She then met with us over a series of lessons to ensure that we understood the steps and could perform them well. We realized that we had achieved success (with quite a bit of effort) when Deborah teared up as we did our dance. Any doubt was removed when a number of people at our wedding also teared up while watching us do our dance with a number of them coming up to hug us afterwards and to tell us that we had performed the best "first dance" they had ever seen. Most importantly, the simple act of practicing our dance and working with Deborah was an enormously bonding experience for us – we had not anticipated that after 16 years together, that is, that we would feel even more in love and attached to each other because of Deborah's magic. And magic it was!! We cannot endorse and recommend Deborah enough. She is incredibly talented and VERY fun to work with. She will give you a hard time when you need a hard time and she will give you abundant loving support when you need that too. Don't do what I had originally planned – a boring, safe first dance where the partners sway around aimlessly. Take a deep breath and let Deborah help you choreograph something that will be deeply meaningful, not only to you as a couple, but to all who watch your dance. We cannot thank Deborah enough."
Lauren
Deborah was great to work with and very professional. She had no problem working with a gay couple, not even two women with two left feet! We felt so much better about our first dance after working with her for one 2-hour session, and even looked forward to it (instead of dreading it).