PWG: Perfect Wedding Guide 2012 - 12 Month Wedding Prize Giveaway
A panel of brides selected the following top area professionals as the prizes they'd most like to win: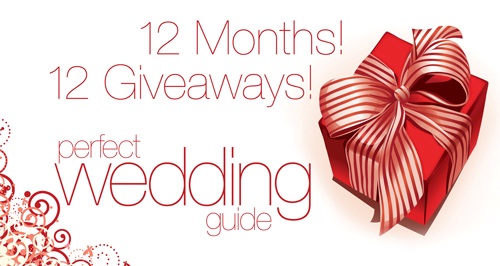 All Seasons Floral Preservation
Ever After Visuals
Faye Daniel Designs
Fingers in Ink
InMotion Video
Jill Andrews Gowns
Larmar Video
Lux Photography
Maverick Productions
Positive Images by Rettberg
Superlative Events

THE Wedding Dance Specialists
---
Local Trends Expert Tips: Perfect Wedding Guide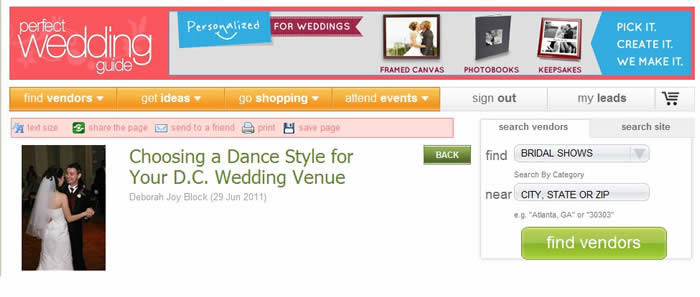 If you plan to have dancing as a big part of your event, you need to make the facility can accommodate your plan…not the other way around. People come before things. Make sure there is a smooth surface available whether linoleum, marble or wood. If you have to rent a floor for an extra $500 then definitely bring one in. It is not worth your guests injuring themselves, embarrassing themselves or damaging their shoes trying to dance on inappropriate and dangerous surfaces like uneven brick or stone, grass, tiles, or concrete. Remember, you are going to have people of all ages who are frail or vulnerable (elderly and children plus plenty of unsteady drinkers) dancing for hours.
What's the personality style of DC brides?
D.C. can be a pretty serious and fast paced town with a lot of brainiacs who spend a lot of time in their heads but not as much time letting down their hair down and celebrating. A stressful wedding planning process can exacerbate that tension. Here are some tips for loosening up your body and your mind (the hardest part is walking through the door, have faith in your ability to learn something new, spend one lesson on fast dancing just for fun, allow yourself enough time for lessons so it's not a panic situation, let the teacher be the teacher, flirt with each other, practice Latin and Bellydance muscle isolations to feel sexier, find the humor in mistakes, have a drink and a massage before you arrive at the studio! ;)
How to move gracefully between cultures, if the wedding is mixed culture
Let's face it…dancing is floorplay! So navigating the desire to be affectionate during your intimate First Dance versus your family's conservative cultural standards can be tricky. Here's how to find the loopholes….(kiss the forehead, kiss the hand, make intense eye contact and wink flirtatiously, use dips and lunges, lifts, move your hips, roll your shoulders, stroke the hair or face, drape the head, expressive arm styling). These techniques should have Grandma blushing and applauding all at the same time!
How to adapt the 'latest dance trend' to DC sensibilities (whatever that may be)
Since YK Wedding Entrance Dance went viral , some may want to spice up the bridal party entrance but tone down the presentation to make it more elegant. Try using partner dancing moves down the aisle for each couple to symbolize unity and have the flower girls throwing confetti or blowing bubbles instead of tossing rose petals.
--Deborah Joy Block is the founder of the D.C. based company, The Wedding Dance Specialist, the first wedding dance company in the nation.
---
Perfect Wedding Guide- Washington DC Winter/Spring 2011 Issue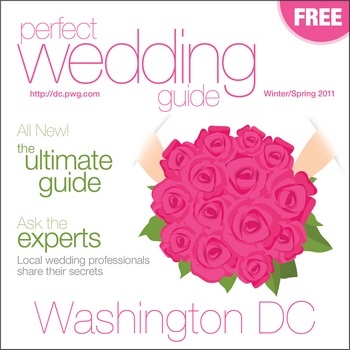 Ask the Experts - Your Guide to Planning Your Dream Washington DC Wedding
Want to know the lates styles and trends for planning your perfect wedding? Then look no further than to the experts right in your back yard. Here, eight Washington, DC wedding prose share with us the secrets to the success of your event!
Topic: First Dance
Expert: Deborah Joy Block
Question: Washington can have very conservative mores. How can couples enjoy more private intimacy when they're expected to conform?
Answer: Navigating the desire to be affectionate during your intimate firt dance versus your families' conservative cultrual standards can be challenging. There are ways to express your affection dipomatically and creatively. Why not kiss the forehead or the hand, make intense eye contact, roll your head, shoulders or hips sensually and wink flirtatiously? Warning...these "loopholes" may get you a standing ovation for making Grandma blush and smile all at the same time!