DFJE are the premiere national wedding dance experts and certified event planners. They are recommended by the media and trusted and hired by wedding vendors, event planners, ten thousand engaged couples, national wedding magazines , the Senior Writer for Washingtonian Magazine, socialites and politicos, celebrities, professional athletes, an Olympic gold medalist and reality show TV stars.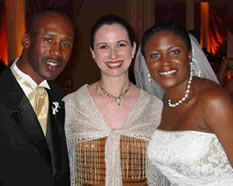 DEBORAH JOY
Celebrity Wedding Dance Expert and Certified Wedding Planner
The primary goal of Deborah Joy Block and Dance for Joy Events is to remind the couple of the joy of their engagement and forget about the stress of wedding planning by easing the stress, paving the way, providing resources and answers in unfamiliar territory. We especially love soothing nervous couples and sharing our passion for establishing a couple's signature style through dancing and romancing and special unique touches! Deborah Block is recommended by the media, wedding vendors and ten thousand engaged couples plus celebrity clients. Deborah Block, celebrity wedding dance expert and certified event planner has been featured in magazines, local and national TV and radio.
Deborah Joy Block (The Fairy Godmother) is a certified wedding planner AND the nation's (planet's) leading expert in wedding dance instruction and teaches more engaged couples than anyone in the DC metro area. She has been teaching and performing for 17 years and pioneered the first wedding dance industry blueprint which inspired this niche industry worldwide! Deborah Joy and TWDS and her students were featured on the first national television wedding reality show "Real Weddings by the Knot" on Oprah Winfrey's Oxygen Network. Block's expertise is regularly sought out by (create link to press page on "media") media and wedding industry leaders both locally and nationwide.
Deborah Joy Block has won the COUPLES' CHOICE AWARDS for many years. This means her wedding planning company is among the top 5% of wedding professionals nationwide. See our reviews by clicking here.
BRIAN
Co-founder of TWDS
Brian Block, is the co-founder of the company and on the planning team plus assists with teaching The Wedding Dance Boot Camps, co-hosts the Dinner/Dancing Date Nights, is a contributing writer to Wedding Planning 411 newsletter and performs dance demonstrations at various public events. Like all other grooms, Brian was not a professional dancer during his engagement. However, unlike most Grooms, Brian had the additional pressure of marrying a professional dance instructor and knowing that all of the wedding guests were skilled in ballroom dancing. Brian received his certificate from Wedding MBA in Las Vegas, NV.
"After having some time to reflect on the whole wedding and review our video and photography, I realized that our "First Dance" in the spotlight symbolized more than just fulfilling a social obligation to formally open the dance floor for our guests and entertain everyone. I recognized that everything else can be outsourced to a third party except the vows and the "First Dance." In retrospect I realized I was performing and as the Leader - responsible for the most sacred ritual of the reception that symbolizes our unity and teamwork as a couple."